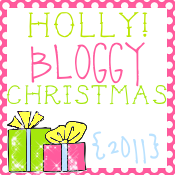 It was a very Holly Bloggy Christmas! A HUGE thank you to Lisa for my beautiful necklace and ornament! I've already gotten so many compliments!
(and how cute is her button?!?)
And thanks to
Caitlin
and
Sarah
who did a wonderful job of putting all of this together! I hope they do it again next year :)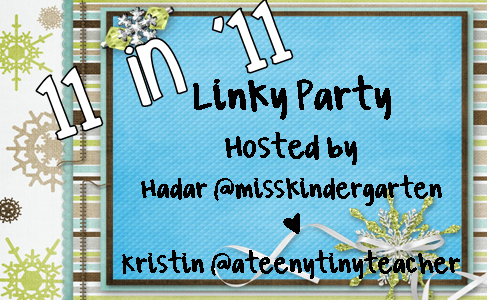 11. Favorite movie you watched:
Hmm...I don't watch movies very often. I just can't sit still for that long! I'm going to go with Water for Elephants. Loved the book better (always do), but movie was pretty good too.
10. Favorite TV series:
My favorite TV series will ALWAYS be Friends. Love that show! (and I secretly wish all my friends lived that close and we could hang out as much as they do)
Current TV series favorite? Big Bang Theory of course!
9. Favorite restaurant:
So many to choose from! I hate to cook, so we tend to eat out more than we should. I'll have to go with Dave's Bar and Grill. It's a sports bar with good, cheap food. I get the grilled cheese for $2.00 - yum! It's just a great place to hang out with friends and watch a game (I'm quite the sports fan)
8. Favorite new thing you tried:
I'm going to go with what everyone else said...blogging! It is very brand new to me and so much fun!
7. Favorite gift you got:
The hubs got me an IPad for a wedding present and an IPhone for my birthday...yeah I'm a little spoiled. But they are both so awesome. I am definitely a MAC girl (he hates them - shows ya how much he loves me!)
6. Favorite thing you pinned:
My secret talent:
5. Favorite blog post:
A Little Less Conversation
. I'm starting my second sign language class next week - I love it! My students are so excited to learn it too.
4. Best accomplishment:
Keeping up with my blog! I thought that I would start this thing and lose interest after a while. But their is so much to see and learn out there! It is also such a supportive community that I just want to keep going! Thank you fellow bloggers :)
3. Favorite picture:
Me and my hubby at our rehearsal dinner. We were practicing the "cake cutting." The hubs is a HUGE Star Wars fan so I got him a groom's cake of Yoda. My brother made it. Check out his work on his
Facebook Page
.
Here is Yoda before we cut into him.
2. Favorite memory:
It was a big year for me...so I'd have to go with marrying my favorite person in the whole world. We had an awesome wedding weekend filled with friends and family.
1. Goal for 2012
I feel like I should say "get in shape" or "organize" but I love going to the gym (yes, you have my permission to hate me now) and my middle name is organization (see, now you have two reasons to hate me). I'm going to go with "have fun!" I have two big vacations planned for this year and I'm so excited. I just want to relax and have fun!
Here's to a great 2012!