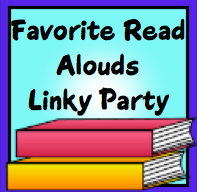 Courtney, over at Swimming Into Second, is having a
Favorite Read Alouds Linky Party
. We all know how I love linky parties!! I could go on forever with all the books I like to read aloud in my class. Here are some of my absolute favorites:
Once Upon a Cool Motorcycle Dude by Kevin O'Malley is a student favorite, especially with the boys. It's about a boy and girl writing a story together. The girl wants their story to be all about princesses and the boy wants it to be "cool" and about motorcycles. The students laugh soo hard as the boy and girl argue about the plot of the story they are writing. It's a great book to show point of view as well.
Chris Van Allsburg is my favorite favorite favorite author! His books tend to be a little challenging for my young ones, but The Polar Express is a great read aloud in December. The vivid language that the author uses completely catches the students' attention. It is a longer read aloud, but the students are completely enthralled. It also gets me really excited about the holiday season!
Kevin Henkes is the perfect author for second-grade read alouds. He writes about issues that 7 and 8-year olds can relate to, but he goes about it in an amusing way. So cute!
Now that I've shared my favorites, go link up with Courtney to share yours!