Looky! Looky at my lunch! Okay, my lunch isn't that exciting, but Tara over at 4th Grade Frolics is having a linky party.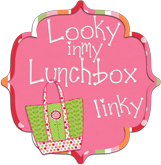 Here's my lunchbox:
Honestly? I hate it. The style is great - fits all my food perfectly and fits in my schoolbag. The design is sooo not me at all. I like bright, pretty colors! Want a new one, but if it's not broke, why fix it?
Here's the boring part. I eat almost the same. thing. every. day. I strive on consistency! (And it makes my mornings easy).
Always a Chobani vanilla yogurt. I put cheerios in it for a little "crunch" - a little healthier than granola.
A Chewy chocolate chip granola bar.
Some type of fruit - usually green apple or grapes. A clementine in the winter. And I bring a banana to eat before the gym in the afternoon.
And I love my Camelbak water bottle! I never leave home without this thing (even on the weekends)! And these colors? Totally me!
School starts at 8:45, so we eat lunch at 11:40 every day and we have 20 minutes. More like 12, I guess, once we get the kids settled and use the bathroom. That's why I bring yogurt - no time to heat stuff in the microwave! We do get to eat on our own in the teacher staff room, but twice a week I have recess duty, which means I am even later to lunch (recess is right before lunch). My husband wonders why I eat dinner so quickly...